So last year was my first attempt at gardening. In terms of produce harvested the garden was a dismal failure :( Part of this is because I had NO idea what I was doing! I just forged ahead and hoped for the best. I can say that it was a smashing success in terms of being a learning lesson! Oh, before I forget our tomatoes were beyond successful and we had tomatoes coming out of our ears! So I decided to use this past winter as a time to learn about gardening. I hunkered down and read a lot of books & spent a fair amount of time online. There are 2 books that were so incredibly helpful and full of information. Today I'm going to share the first with you.
Crockett's Victory Garden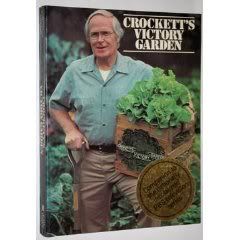 Amazon has several copies of this book available starting at $4.49. Now I must tell you this book was first published in 1977. Please don't let that fact that its old dissuade you from getting this book. The information by no means is dated! The book is written as a month by month guide and every month is further broken down into various crops. I loved this because it was very easy to make a gardening calendar and start a garden notebook. (Another really useful tool! Google Garden Notebook for ideas & worksheets!)
On my next post I'll share another very valuable book in setting up my garden!