I know y'all know about my love for Etsy and you're going to see LOTS of Etsy shops in the Christmas in July giveaway. Etsy is so awesome in so many ways. It is crafted items that are made with care- isn't that the kind of item you want to buy- and give? Our next Christmas in July Giveaway is from
Loriette's Grammy
. Barbara is the owner of Loriette's Grammy and was kind enough to do an interview as part of the giveaway. Grab a cup of tea (iced is ok!) and join us for awhile!
-What is your name?

Barbara Redmon, or Barbilu


-How long have you been selling on Etsy?

About 2 years


-How did you pick your shops name? This shop is based on my first grand child's middle name, and the name is a tribute to her two great grand mothers. Mariette and Lola, making Loriette. I do wish I had thought this out better, as it would have been Loriette's Designs.
-What is your favorite item in your shop? This is my favorite thing in my shop and has been for quite some time. I would love to put it on my bed and would if it were not for the husband.
http://www.etsy.com/listing/32312841/ooak-shabby-chic-in-pink-and-grays-throw
-What is your favorite holiday?

Christmas


-What is your favorite Christmas memory or tradition? Christmas Morning with the children. The happy faces and joy of anyone receiving a gift that you have picked out especially for them or created especially for them is what makes it all so fun.
-What is your favorite Christmas song or carol? Jingle Bells and We Wish You a Merry Christmas, well there are more too... but you did say a favorite.. I love lots of them.
-How long have you been crafting? How did you get started? All my life in some way or another. I grew up with a very creative mother. She started sewing at age 3. She was from Belgium and they had a flat in Paris, where she would go with sketch pad in hand to the designer stores and go home and make the outfit. I am not as good as her in the clothing making, but I do like to make my way in the design of household items and my brooches etc.
-What inspires or motivates you? Everything, I love flowers and the beauty of the Pacific Northwest, but odd things inspire me as well... and I strive to recycle/upcycle/repurpos as much as I can. Other things that inspire me, Babies, dancing girls, the color of food, lollipops, blueberries, pigtails, the texture of nature, like rocks, dirt, moss growing on a tree and the list goes on and on.
-What advice would you give someone wanting to sell on Etsy?

List every day if you can at different times in the day and take great pictures.


-Do you have a favorite Etsy shop (other than yours).. way to many of them and they are always changing. A few that I find I keep finding something I like and what do you know it is so and so.
-What do you do, if anything, to try to live a greener lifestyle? Oh, drive my family nuts...compost all food and paper and some other things... also recycle everything I can... from the container the strawberries come in to cereal boxes (I use to ship things in them) to tiny pieces of fabric. I grow some of my own food and I buy green/organic as much as I can. I just had a guy come and remove the bees from a hornets hive from my home in as humane a way as possible. They freeze them and milk them of their venom and this does not kill them. I found it very interesting. My husband would have loved to kill them, but I would not let him.
-If you could go on vacation anywhere where would you go?

To a cabin on a lake and bring my sewing machine and crafting materials, a book to read and fresh food... and by myself would be good. I love my alone time.


-Do you have a season or a favorite that is your favorite to create for?
I love to create for eclectic people, and when I find someone who enjoys my things then I am inspired to get even more creative
So would you like to see what Barbara is giving away?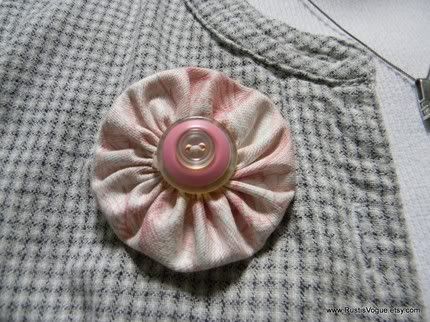 Love it don't you???? :) I knew you would! Barbara makes the most awesome brooches, bracelets and baubles! You SO need to go to her shop
Loriette's Grammy
and check things out! I'm just jealous of anyone that can make yo- yo's! I'm relatively crafty but those just don't happen for me! So, in the spirit of giving Barbara is giving away this darling brooch and without further ado I'm going to tell you how to win it!
Win It:
Mandatory: This must be done or all other entries will be deleted.
1)Publicly follow Sarah Simplifies (this has to show up on your Dashboard for it to count)leave a comment that you are a Sarah Simplifies follower- counts as 8 entries (leave 8 comments)
2) Head on over to
Loriette's Grammy
and take a look around. Come back here and leave a comment of what your favorite item is. Click
HERE
to go to
Loriette's Grammy
- 1 entry (leave 1 comment)
So just for publicly following Sarah Simplifies and going to Mudpuppy & telling me what you'd love to bring home you will get 9, count them, 9 entries!
Extra Entries:
-Blog about this contest and leave a link worth 5 entries (leave 5 comments)
-Add my Christmas in July button to your blog 5 entries (leave 5 comments)
-Subscribe to Sarah Simplifies worth 3 entries (leave 3 comments)
-Follow Sarah Simplifies on Facebook
HERE
worth 3 entries (leave 3 comments)
-Follow Sarah Simplifies on Twitter
HERE
worth 5 entries (leave 5 comments)
-Follow Sarah Simplifies on Networked Blogs 3 entries (leave 3 comments)
-Enter the
JessKay Designs giveaway
3 enteries (leave 3 comments w/ your email)
-Enter the
Mudpuppy giveaway
3 enteries (leave 3 comments w/ your email)
-Make
Loriette's Grammy
a favorite store if you are an etsy.com buyer worth 2 entry (leave 2 comments)
-Buy something from
Loriette's Grammy
(leave a message that you're a Sarah Simplifies reader) 10 entries (leave 10 comments)
Now for the fine print:
The giveaway will end on August 15th. Any comments left after August 15th 11:59PM CST will not be counted
Please make sure that you have a visible email link or include it in your entry
Winner will randomly be chosen from all entries
Winner will be notified on August 16th of their lucky win! They will have 72 hours in which to claim their prize. If the prize in not claimed within that time frame another winner is chosen.
Open to US and Canadian residents only
Disclaimer- NO monetary payments were received for this post. All opinions expressed are my own. Different people may have different experiences with products and/or the company. I was not compensated in any other way for this review and/or giveaway.